Connect With Us!
Become a true citizen of the world through kvcdp volunteering programs. kvcdp volunteer programs let you break out of the normal tourist travel and make a real, lasting change on your volunteer abroad in Kenya programs
Why Kvcdp ?
Kvcdp have been running volunteering programs, medical work camps in Kenya since 2005. We have so far handled over 5000 happy volunteers from all walks of life who share our vision that together we can make a difference
Meaningful Travel
Kvcdp volunteer programs are open to all volunteers with the same spirit and welcome volunteers from all walks of life who wish to come to Kenya to share our commitment and care in supporting vulnerable communities.
Opportunities Available
Who can volunteer in Teaching Program?
-Must be 18 and over
-Have a positive attitude and be flexible to adjust to the living conditions
-English speaking
Volunteer benefits.
-You will gain a wide knowledge in education sector
-You will have put into practice your acquired knowledge and experience into practice to help the help the most needy communities -by sponsoring a needy but brilliant child, you will be proud of yourself for positively changing someone's life. -You will experience a true and pure culture of a different kind. -You will enhance on your knowledge on life, society, politics and problem solving skills and approach. -It shall be such a great adventure and experience of a life time. -Opportunity to make friends with people from different background.
Teaching in Schools
Volunteers teaching in Kenya must be English or Swahili speakers, have a good command in oral and written English or teach Swahili, be flexible patient and tolerant, have passion and love for teaching in Kenya.
Volunteer teaching in Kenya is a very good opportunity for volunteer teachers with an educational background to gain expansive experience in their teaching profession. These schools are in the remote villages and urban areas experiencing shortage of qualified teachers who are unable to handle the overwhelming number of students in a single class as of free primary education which was initiated by the government in 2002. This has called for a great need of volunteer teachers who can speak and write English or Swahili to assist these communities. Kenyan 844 system or Education entails 8 years in primary school, 4 years in secondary school and 4 years in tertiary level. In primary schools volunteer teach English Math, Science, Kiswahili, Social Studies, Christian Religion education, Music and Art & Craft. In Secondary school, volunteer teach English, Kiswahili, Math, Chemistry, Physics, History, Biology, Home science, Geography, Agriculture, Business studies, foreign languages, Wood work, drawing and design, CRE, Aviation, literature, Physical education among other subjects depending on the school.
The main language used in teaching in Kenya is English and Swahili. Volunteer teachers will handle pupils between the ages of 6 to 15years in primary schools and students between the ages of 15 to 20 years and in secondary schools.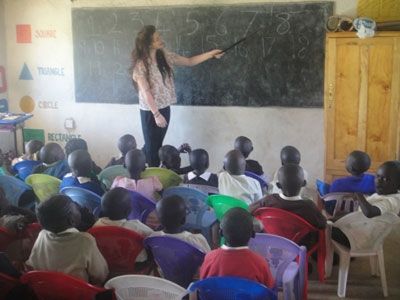 Program objectives.
-To help fight poverty through education
-To support the under staffed local schools to offer proper quality education.
-To enable the Organization identify more sponsorship opportunities for the brilliant but needy children.
-To encourage the children and their parents to embrace education.
-To promote cultural exchange that will take place between the volunteers and the residents of the communities/villages in which differing ideas, abilities, backgrounds and needs are fostered and valued, and where those with diverse backgrounds and experiences are able to participate and contribute towards development.
-To offer the volunteer an opportunity to make a positive contribution into the lives of disadvantaged children through sponsorship.


Volunteer's responsibilities
-Prepare lesson notes/scheme of work
-Organize learning materials
-Develop a teaching method e.g. -Teach classes through lecturing, discussions and demonstration.
-Discuss output and methods with fellow teachers and supervisor.
-Assess the performance of the students through work assignments etc.
-Organize out door/indoor games with students.
Who can volunteer in Teaching Program in Kenya?
A volunteer in this program can be English or Swahili speaking with relevant qualifications in education. We accept individual or group volunteers from all over the world. Not only is your participation in this program is of great help to the local communities, but also a boost to the local economy.
Program Duration and Dates.
The teaching Program is opened to volunteers all year round except in the months of April, August and December when the schools remain closed for holidays. The teaching curriculum in Kenya is divided into three terms: 1st term runs from January to late March, 2nd term begins in early May to late July and 3rd term begins in early September to late November. Volunteers can spend a minimum of three weeks to one year on the program...Apply Now.