Connect With Us!
Become a true citizen of the world through kvcdp volunteering programs. kvcdp volunteer programs let you break out of the normal tourist travel and make a real, lasting change on your volunteer abroad in Kenya programs
Why Kvcdp ?
Kvcdp have been running volunteering programs, medical work camps in Kenya since 2005. We have so far handled over 5000 happy volunteers from all walks of life who share our vision that together we can make a difference
Meaningful Travel
Kvcdp volunteer programs are open to all volunteers with the same spirit and welcome volunteers from all walks of life who wish to come to Kenya to share our commitment and care in supporting vulnerable communities.
Opportunities Available
Volunteers will have an opportunity to work in the following areas;

-tree planting activities
-Community clean-ups
-Conservation of water wet lands and water catchment areas
-conservation of biodiversity
Volunteers will work in environmental conservation with community members
Who can volunteer in Environmental Program?
-Must be 18 and over
-No special experts or skills required except in teaching, health, marketing and office management
-Have a positive attitude and be flexible to adjust to the living conditions
-English speaking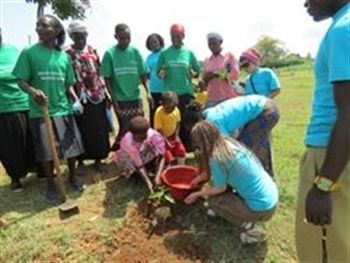 Environmental Conservation
Some of the environmental challenges include land degradation, deforestation, liquid and solid waste management and air and water pollution. Major causes of environmental pressure include floods, poverty, wildlife, deforestation etc.
In this program we try to bring an end to environmental destruction and improve the environmental condition in Kenya today. This practice will lead to maintenance of global biodiversity, fruitful productivity and steady ecological systems.
Our organization has been involved in various activities within the country which include; tree planting in schools, private and trust lands, community farms, and intensification of environmental conservation awareness.
Volunteer Benefits
- A wider understanding of environmental issues. -Volunteers shall get a chance to practice their acquired knowledge hence of utility to the project
-Volunteers shall have a chance to freely interact with the host community to further their research.
-A volunteer will be able to appreciate global bio-diversity and ecosystem integration.
Program Duration.
-Program is open to volunteers all year round. Volunteers can spend from two weeks onwards on the program.
Who can volunteer? Any volunteer aged 18 years and above can participate regardless of their profession. However, specialized skills and expertise shall be used accordingly.
Participants should have a positive attitude, be ready to adopt and enjoy simple living conditions.